Purple Paw Award
The Purple Paw Award is given in recognition of an outstanding employee who exemplifies the mission and passion of this practice. It is awarded monthly by internal nomination to the employee who goes above and beyond for our clients and our patients, and who is an active member of the team.
Recent Award Winners
September's Purple Paw Award winner is Sue Paterson!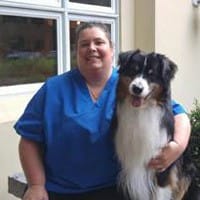 Sue has been a dedicated technician assistant since 2012 and consistently goes out of her way for our patients and our team! She is our resident dog whisperer and Mama Bear. She truly loves her job and has an impact on each person - 2 and 4 legged- that she meets! We would be lost with out her! Thank you Sue for all you do! We appreciate you!!
---
November's Purple Paw Award winner is Candace Supernavage!
Candace is a Licensed Veterinary Technician and takes extra special care of patients while they are here. She is an amazing surgical technician and has extensive experience in the veterinary field. She is consistently going above and beyond helping out the team where ever needed.
---
April's Purple Paw Award winner is Mia Foote!
Mia is a pet care attendant here, and makes sure that all our four legged guests are taken well care of! She takes true pride in her job and has made a great impact on the lives of our patients. She treats every patient as if it were her own and gives every guest extra special attention!
---
Brianna Brown
(photo coming soon)
Brianna is the newest member of our team and spends her time here ensuring our furry guests are well loved and snuggled! We are so lucky to have her as a part of the team!